Boksu
Updated: 05/22/2013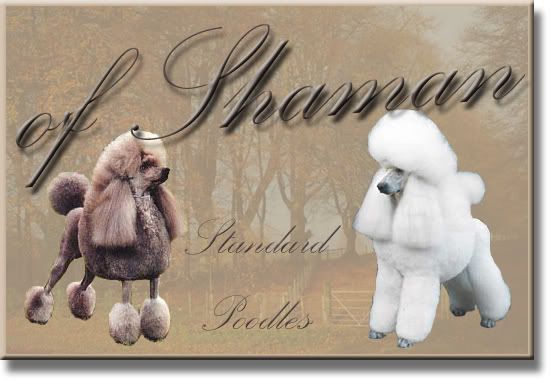 Welcome to Kennel of Shaman! We specialize in Apricot, Red, Cream, Silver & White poodles!




Our past stars:
Ramses of Shaman
Voldemort of Shaman
King Tutankhamon of Shaman
Wacco of Shaman
Desing by of Shaman (almost 90 BiBs!)
Manhattan of Shaman
Rabbit Fever of Shaman

Our BISS-winners:
Xantos of Shaman
Desing by of Shaman
Wacco of Shaman
Whirlwind of Shaman (was owned and showed by JonTer)
King Tutankhamon of Shaman

Currently showing:
-

Future hopes:
-




I sell my dogs to both premium and basic users. I don't always put puppies up for sale, so if you are interested in a poodle puppy, please send me a message!

When you buy a dog from me, it's yours and you may do whatever you want with it. However, I consider it very polite to ask me before selling/FHing/retiring a young dog (less than 120 days).




photobucket.com/albums/v406/syyskuu/ Please visit my gallery. There are almost 200 pictures, all available for SD-use. If you want to use any of the pictures for banners, e-mail me and tell me which picture you want and your e-mail address so I can e-mail you the pic you need.

Check also www.showdog.com/login/philboard_read.aspx?id=56305