luckydogwhisperer


Welcome to LuckyDogWhisperer Kennels! Here, we are working primarily with a really awesome breed--Flat-Coated Retrievers--and are working a a little bit in Pyrenean Shepherd trait breeding and Leonberger SOP breeding. We will also session dogs for other kennels; just send a PM, and we'll work something out. Select pups, show age dogs, and retired show dogs will be for sale by request, as well as occasionally if there's a pup who would be finishable, but I would prefer not to keep.

Thanks a ton to Emma at Black Veil Brides for the upgrade! I will never be able to pay you back Emma, for this is the chance of a lifetime! I've had so much fun, thanks to you!!!!!

Current Top Dog

LDW King of the Nerds is promising to be my most successful dog yet! He is currently the #1 Flat-Coated Retriever for March 2013 (also taking the February 2013 title); is the #50 Sporting Dog for March 2013 (and also my first ever dog to accomplish this ranking this late in the month!); finished both his CH and GCH titles before he was 30 days old; has been (and is still!) the top SOP Flat-Coated Retriever for the past 2 months; has 34 BOBs; won a BISS at the February 2013 Flat-Coated Retriever National Specialty; won BOB at the February 2013 Showdog World Cup; is the #1 GCH Flat-Coated Retriever at 157 GCH points; and has beaten over 480 dogs in the ring, landing him at #85 of All-Time Flat-Coated Retrievers. All of this has been accomplished at only 65 days old (all results/rankings as of 3/29/13)!! I am so proud of this boy, and can't wait to see all that he will accomplish! He very much reminds me of my very first "WOW" dog, LDW Shock to the System, LDW King of the Nerds' grandsire. Shock to the System is the first dog that went EXTREMELY far...all the way up to #2 Flat-Coated Retriever GCH and #45 All-Time Flat-Coated Retriever. These two dogs are truly the source of my kennel's success!




Thank you so much to Reina at Dreisaiah Hundehutte, Leidenschaftlich, and Warhead for this awesome texttag and my signature texttag!




Thank you to Shimmer at Inspirational Kennels for this amazing banner!!!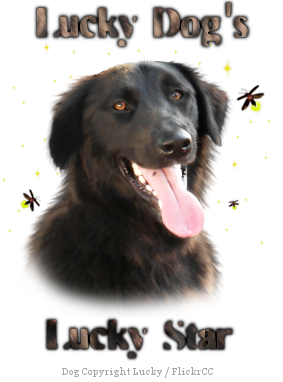 Thanks a ton to PPvallhunds for this outstanding head banner of my real-life dog, Lucky!!!




Thanks a ton to Brenna at Welsh Corgi Kennels for this awesome texttag for my real-life dog, Lucky!!

Thanks to Lily at Bord De La Mer and Majestic for my wonderful "Welcome" Text-tag! It's amazing!

Thanks for visiting!


Bitches
None at this time.
Puppies
None at this time.
Retirement Couch
None at this time.
Links

General Info

Prestige: 0.0 (#1,632)
Location: USA
Signed Up: 7/5/2011
Account Level: Basic
Last Visit: 12/30/2014


Forum Activity
--None--