Al Johara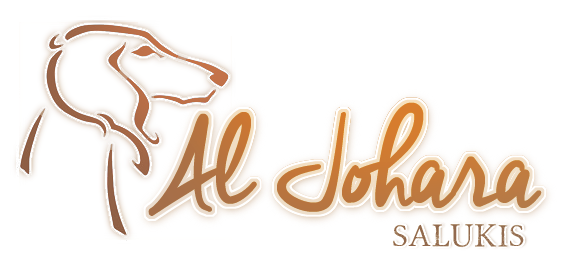 Original Design: Al Johara × Resized & Updated Courtesy of Ardeshir

SALUKIS OF AL JOHARA
Specializing in rare & parti-colored Salukis

• • • • • • • • •

OUR MISSION // At Al Johara, we are committed to breeding show & performance quality Salukis. The primary goal of our breeding program is to produce solid toplines with effortless movement, with a secondary focus on establishing and improving our own distinct bloodline of rare & parti-colored dogs. ×

I have been involved with Afghan Hounds & Salukis for several years on Show Dog. Several of our current dogs descend from my older Saluki kennels; I've made a concerted effort to implement lines from WIND-RELIC, JAVAN, and SHIRAZ.
I'm also proud to say that via the consistent breeding endeavors of PEREGRIN, we have a few dogs that trace back to some of my first Salukis on SD bred under the HOUSE OF BIJOUTERIE prefix: GCH CH Bijou Vintage Red and Bijou-Valiente Fortune Hunter. ×

Please browse the kennel and check out our current bloodstock. If you are interested in any Al Johara dogs you see-- whether to purchase or arrange a breeding with-- feel free to send a message!

• • • • • • • • •

HOME OF...
GCH CH Nubia Al Johar
GCH CH Meadowly Brown Eyed Girl
CH Safari Al Johar
CH Dahlia Al Johar
CH Altair Al Johar
CH Amari Al Johar
CH Soothsayer Al Johar CD

• • • • • • • • •

Puppies & adult dogs are occasionally available for sale. Puppies will be evaluated and those listed for sale will be available until they are 8-10 days old, then FH'ed. Adult dogs are only listed for a limited period of time as well.
All offers will be considered.
Please don't hesitate to inquire about available puppies; they are only sold with 'approval required' for naming purposes.
I will sell to basic kennels & premiums alike.