Lanakila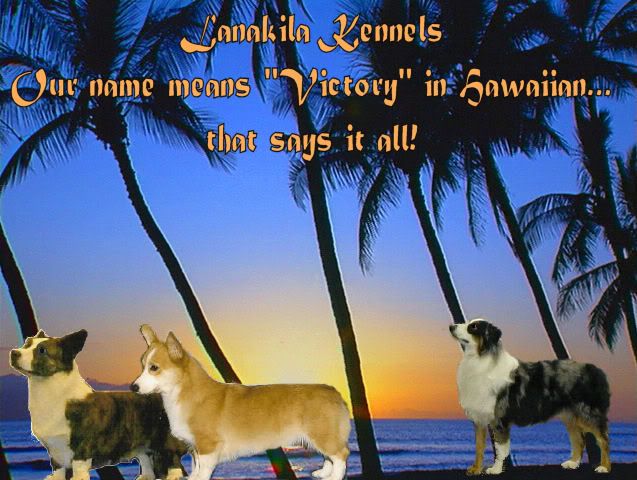 We are currently specializing in Australian Shepherds, and working on breeding black tris and bis, blue merle tris and bis, and red bis.


We are the proud home of 30x BISS, 4x BIS CH Lanakila Crown Jewels! He won BOB at the May-Aug 07 World Cup! He also won a Group IV at the May and July 07 World Cup! Not only was he a great show dog, but he has also been a terrific producer, with many top Champions, including CH Kilohana Imperial Crown and CH Lanakila Jewel Of Beauty, both multiple-show placers!

Our first Aussie litter in May 06 produced multiple-BISS, Multiple-Group Placing CH Lanakila Gallant Fox!

We are the home of 15-time BISS, multiple-Group placing and 2nd In Show winning CH CarMel Royal Beauty!


Some of our Stars:

NBISS CH Lanakila Obviously Perfect
NBISS CH Lanakila ARoseByAnyOtherName
BIS/12xBISS CH Lanakila Cullinan
BISS CH Lanakila Do You Feel Lucky
5x BISS CH Lanakila Lucky Charm
8x BISS CH Lanakila Jewel Of Beauty
CH Lanakila Jump For Joy--now retired, she was one of the first Swedish Vallhund Champions
2x BISS CH Lanakila I'm In Charge (59.5 SOP Vallhund)
3x BISS CH Lanakila Mister Freeze

Silver Sire:
BIS/12xBISS CH Lanakila Cullinan--producer of 33 Champions!

Bronze Sires:
CH Lanakila Crown Jewels
CH Lanakila Zircon
CH Lanakila Beau Brummell

Bronze Dams:
NBISS CH Lanakila ARoseByAnyOtherName
CH CRU End Of Blue Shadow

Home to over 300 Champions!

The pictures used for our Aussies and Pembrokes are of our RL dogs. (The Cardigan photo was taken by my daughter, an aspiring photographer!) The Vallhund photo was taken by me, of my friend's dog. I actually grew up in Hawaii, so I have MANY pictures of the scenery there! For more pictures and info on our RL dogs and kennel, visit our website at: www.geocities.com/windmillgsd/home.html

We show Champion German Shepherd Dogs in RL. In 2006, our CH was in the top 10 in the Breed!