LoupGarou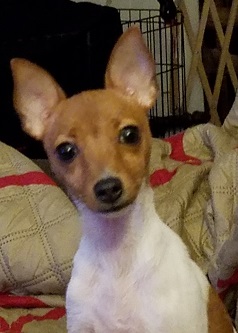 PROUD BREEDER OF RL AND SHOWDOG.COM TOY FOX TERRIERS

Hey there! Yuma says "Welcome to LoupGarou (mostly) Toy Fox Terriers!"

I am back--again!--and hope to linger for a while. Although other responsibilities are keeping me busy in real life, preventing me from being as active in the dog fancy as I was, I am still occasionally showing and trialing my dogs, both in AKC and in UKC shows. Little Yuma is only seven months old and is almost a UKC champion, even with limited showing.

As time goes on, I will post additional pictures of my current RL dogs. Most of the dogs I had when I played, so long ago, are deceased or old now. Here is a picture of my beloved Beau, for all of you who remember him, taken the morning that he died. It was just after dawn and he had been intently watching some birds just a moment before. He loved having his picture taken and, as he realized what I was doing, he turned to face me. It is the last picture ever taken of him.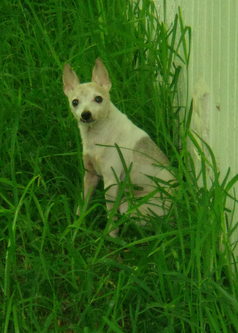 *~*~*~*~*~*~*~*~*~*~*

I am still breeding primarily for myself, but will generally have puppies listed for sale until I need the room. Most of my dogs will be produced for breeding only and will be FHed or offered for sale after a single litter. If you're interested in one of my older dogs, please let me know. As long as it's not a favorite of mine and headed to the retirement couch, I will probably consider it. Pups start at $100, champion adults at $150. If it's a dog or bitch that I'd like to breed from, then I might ask you to wait until the dog is 31 days old (for a male) or 36 days old (for a female) before completing the sale, or I would be willing to make other arrangements suitable for both parties.

I'm happy to sell to my dogs to basic members and premium members alike, as long as they're willing to show my dogs and take good care of them. I will also consider leasing dogs and selling dogs to basics for finishing and buy-back. I will not sell dogs over 100 days old to basic users.

Happiness is:

Dog kisses when you're feeling down.
Finding a forgotten packet of hot chocolate mix at the back of the cabinet
Having your picture taken at the Renaissance Festival with a patron who remembers you from last year

AND

The Saints winning the NFC South--AGAIN!

Bitches
None at this time.
Puppies
None at this time.
Retirement Couch
None at this time.
Links

General Info

Prestige:
0.0 (#498)
Location:
USA
Signed Up:
2/9/2004
Account Level:
Basic
Last Visit:
7/11/2020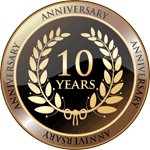 Forum Activity
--None--